LIPS MODELLING WITH HYALURONIC ACID
Shapely and full lips can be within reach of everyone thanks to the treatment with hyaluronic acid. Lips modelling with the use of the aforementioned acid is a safe, precise and prompt method to achieve the desired results. Hyaluronic acid can be naturally found in the skin and it has a decisive impact on its condition, because it is responsible for binding water molecules, the so-called hygroscopicity. It provides the skin with moisture, firmness and elasticity. With age, however, its volume in the skin begins to decrease. Various treatments with the use of hyaluronic acid are in fact based on one of the natural components of our bodies which fulfils the function of a filler. Thanks to its plasticity, hyaluronic acid allows to model the lips exactly the way the patient wishes. Due to the fact that the lips area is very sensitive, the procedure is performed with anaesthesia with the help of anaesthetic cream or dental anaesthesia.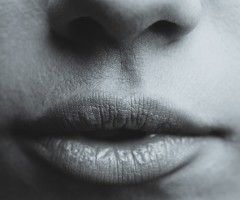 .
Who should decide for the procedure?
Age is not the main criterion determining the need for surgery. With younger patients, modelling with hyaluronic acid will primarily help to increase the volume of the lower or upper lip. While with mature patients it will help to fill up the deficiencies of hyaluronic acid, hence, minimize wrinkles, deeply moisturize and fill the lips.
.
What effects does the treatment bring?
The treatment allows to increase the volume of the lips (both the lower and upper lip) and it also improves the contour of the lips, giving them the desired shape. At the same time, hyaluronic acid moisturizes and smoothens the lips, making the wrinkles around them disappear. The acid is well tolerated by the body and after a period of about 12 months it is broken down by body enzymes. Then the effects of the treatment gradually disappear and can be repeated.
Hyaluronic acid allows to model the lips exactly the way the patient wishes
.
What are the contraindications?
Among the contraindications for the treatment hypersensitivity to hyaluronic acid should be mentioned as well as inflammation of the skin and active herpes. Moreover, tendency to hypertrophic scars and diseases of the immune system should also be indicated as counterindications. The treatment cannot be performed during pregnancy and lactation.
.
How to behave after the procedure?
For a few hours after the procedure, patients should avoid touching and massaging the injection spots. In the following days, it is also not advisable to use sauna, solarium and sunbathing.
prices
* Regarding only Pro Skin Clinic in Lublin
| | |
| --- | --- |
| lip modelling and enhancement | 900 PLN – 1400 PLN |